The Tampa Bay Buccaneers have not only become a powerhouse on the football field but also a force for positive change in the Tampa Bay community. Beyond their athletic achievements, many current Buccaneers players are actively engaged in various philanthropic endeavors, aiming to make a lasting impact on the lives of their fans and neighbors. Now that football season has started back up again, let's explore how these players have been giving back to Tampa Bay and creating a legacy that extends beyond the gridiron.
Several Buccaneers players have established their own charitable foundations or partnered with existing organizations to address various community needs. These programs often focus on areas such as education, youth development, health, social justice, and animal rescue. Let's take a look at how a few Buccaneer players are helping to spread their light around Tampa Bay.
Lavonte David Foundation
Linebacker Lavonte David has been a staple of the Buccaneers' defense and a pillar of support for Tampa Bay's youth. Through his foundation, Lavonte Legends grants scholarships to help college bound kids who are excelling academically, but don't have the financial means to get there. He's helping young deserving individuals build a brighter future. He's also a Big Brothers Big Sisters ambassador. He understands what kind of impact a mentor can have on young individuals to further their growth and success. He also engages in initiatives and programs which inspire and empower local youth.
Team Godwin Foundation
Wide Receiver Chris Godwin is dedicated to giving at-risk animals a second chance. Programs like their Second Chance Fund support life-saving treatments for animals in need, while their advocacy programs are intended to promote the importance of animal adoption. He also works closely with other foundations such as K9s for Warriors to help place service animals with military veterans – a win-win for both!
Mike Evans Family Foundation
Wide Receiver Mike Evans has been a vocal advocate for causes like domestic violence awareness and providing opportunities for at-risk youth. He started his foundation with his wife, Ashli, to help empower youth, encourage education, and help women who have been victims of domestic violence get back on their feet and live better lives. His foundation has held charity events and provided scholarships to students in need. He also supports a number of other foundations such as the Jackson in Action Foundation, which was founded by his dear friend and former Tampa Bay Buccaneers player, Vincent Jackson and his wife, Lindsey.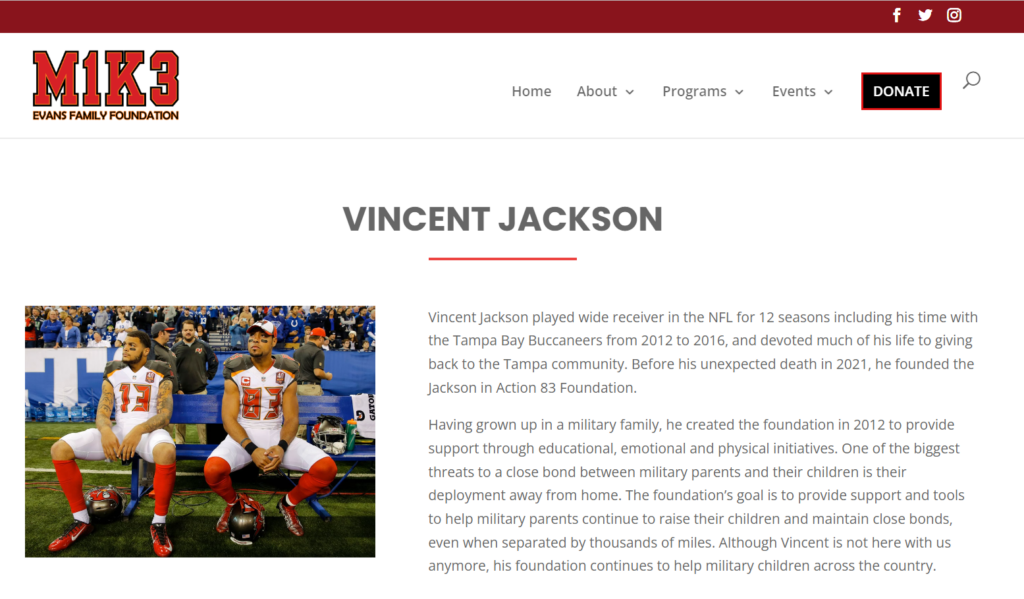 These Buccaneers players recognize the importance of positive change throughout our community. They use their platform to raise awareness about important issues and drive positive change. The players aren't just champions on the football field; they are also champions of our community. Through their foundations, initiatives, and active involvement, these Tampa Bay Buccaneers are making a significant difference in the Greater Tampa Bay area. Their commitment to giving back demonstrates their impact extends beyond touchdowns and tackles, leaving a lasting legacy which touches many lives throughout the region. As fans cheer them on during games, they should also applaud their efforts to create a brighter future within our own backyard!
Go Bucs!