Did you know February is Teen Dating Violence Awareness Month? That's why we are proud to partner with The Spring of Tampa Bay during the month of February. The Spring of Tampa Bay is Hillsborough County's certified domestic violence center providing survivors of domestic violence with comprehensive services and programs.
February's in-person lesson with our students started with leadership education around Habits 5&6 of Sean Covey's "The 7 Habits of Highly Effective Teens."
Habit 5: Seek First to Understand, Then to Be Understood
"Habit 5 is about effective listening and how to be a good listener. There were examples of what effective listening is and is not. My listening that needs the most improvement is spacing out, because my mind is thinking about a zillion other things," said Dave Harris, Student Service Program member.
Habit 6: Synergize
"The geese flying together and helping one another was my favorite part of Habit 6. Geese work together to be more effective and fly farther. They honk to encourage each other – like cheering. If one geese goes down, the others stay to help or until the goose dies. They really work together as a team and help each other," Harris said.
After the students engaged in leadership education, The Spring of Tampa team took over the meeting to talk about sexting, online dating, bullying, and suicide.
"Suicide was the saddest part of the meeting. Suicide is permanent and final. If you are alive another day, you can always do better and look forward towards something better. If you kill yourself, there's no other chances and it's the end. It's not like a video game, where you can respawn and come back for another game," Harris said.
More on Teen Suicide from the Ryan Nece Foundation
Teen suicide is the second-leading cause of death among those aged 15 to 19 years old, and the numbers have been inching upward for more than a decade (CDC Wonder Data). We at the Ryan Nece Foundation know teen suicide and mental health is a crisis that needs to be addressed. According to the Mayo Clinic, research has shown that volunteering offers many benefits. Volunteering reduces stress and increases positive, relaxed feelings by releasing dopamine. Giving back to your community provides a sense of purpose and teaches valuable skills. Lastly, participating in community service allows volunteers to nurture new and existing relationships.
Our Student Service Program helps local students build support systems based on common interests. One of the best ways to make new friends and strengthen existing relationships is to participate in a shared activity. Dedicating time as a volunteer, alongside leadership, inclusivity, and social-emotional learning curriculum helps expand social networks and practice social skills with others.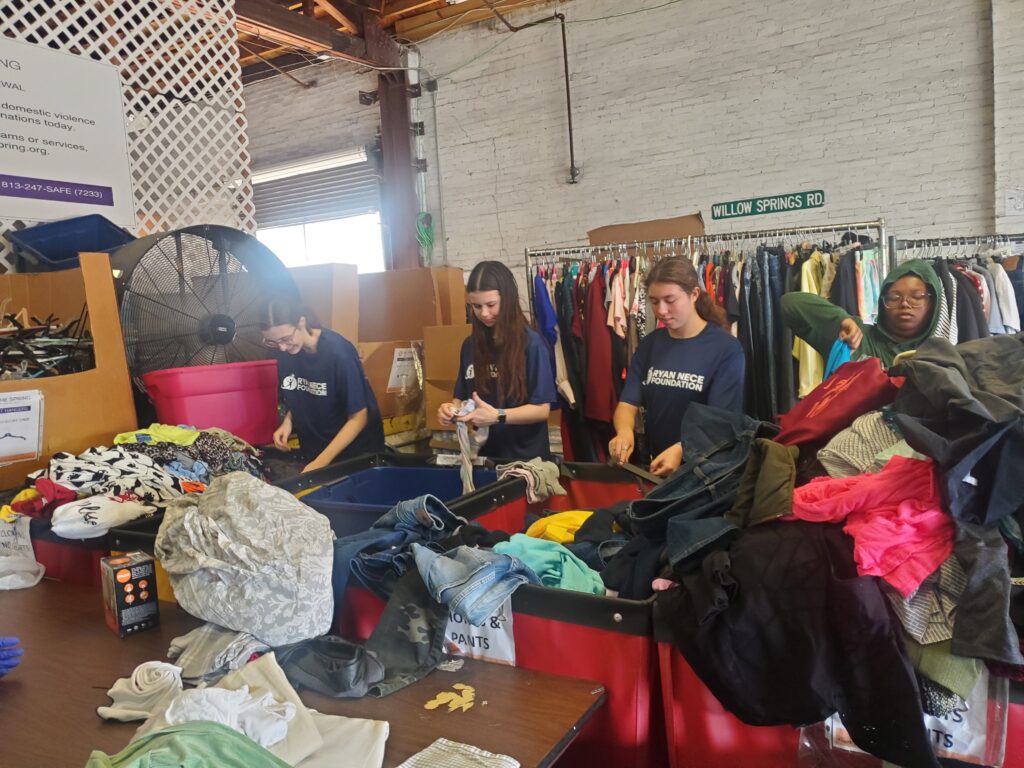 February Service Project
During February, our Student Service Program members volunteered at The Spring of Tampa Bay's Thrift Store & Boutique. One of our program juniors recapped the service activity:
"During The Spring of Tampa Bay volunteer experience, we began by meeting in the middle of the store, where we learned about the extremely low prices of items sold in the store. Then, we entered a warehouse space, where we organized DVDs, books, and other items. This took us about 20 minutes, and afterwards, we entered the main store, where we sorted clothing on the racks. We placed jeans, shorts, skirts, etc. on their respective racks, so people could shop easier. After doing this for about an hour, we went to the part of the warehouse where the donations were being dropped off, and we sorted clothing. We separated sellable clothing from the unsellable, hung the clothing, and brought it upstairs for shoppers to buy. We ended the day with the supervisor of The Spring of Tampa Bay thrift store talking to us about the people who come to the store. He told us they mostly female who are being abused. He also told us how he is proud to see teenagers doing service work, because he believes too many turn their back on the needy and afflicted in our modern society," said Ronald Hardin, Student Service Program member.
February came with a lot of hard conversations and hard work, but it reminded us how easy it is to spread love – especially by serving others.