March was another great month here at the Ryan Nece Foundation, as our students learned the importance of self-care. During the educational lesson, students talked about Sean Covey's "7 Habits of Highly Effective Teens" seventh habit, sharpening the saw, as well as heard from a panel of entrepreneurs.
Habit 7: Sharpen The Saw
The students talked through the different ways they could sharpen the saw:
Renew yourself regularly
Take care of your body
Care for your mind
Care for your heart
"During the meeting, we talked about renewing yourself so you could be a better person. If you just take a little bit of time for yourself, you can accomplish more things in a shorter time period," said Timothy Dingman, Student Service Program member.
The students are currently working on putting together a list of ways they can sharpen the saw. We will be sure to share this list with you when it's ready!
Entrepreneurship Panel
After the self-care lesson, students were able to hear from a diverse group of panelists who spoke to them about entrepreneurship and what it means to be your own boss.
"All the speakers were engaging and had great things to say!" said Sara Fernandez, Student Service Program senior.
Two of the panelists were even our alumni – Madison Barse and Simone Girard:
Madison founded Full Herizon, which is an earring and gift shop whose mission is to uplift women with our lightweight earring designs and content driven mission.
Simone founded Legacy First Financial Services, Inc., which specializes in tax preparation for small businesses.
Weekends Are For Service
In addition to learning about self-care and entrepreneurship, our teens participated in three different service projects this month:
MacDonald Training Center
Some of our juniors and seniors helped MacDonald Training Center disassemble and load up its booth after a successful weekend in the Community Outreach Village at the Gasparilla Festival of the Arts. MacDonald Training Center transforms the lives of people with all disabilities through innovations in vocational training, employment services, residential supports and life enrichment opportunities. They have a Fine Arts program, which allows artists with intellectual and developmental disabilities, autism spectrum disorder, down syndrome create original art pieces in a sophisticated setting. All art is available for sale and proceeds go to the artists and to support the MacDonald Training Center.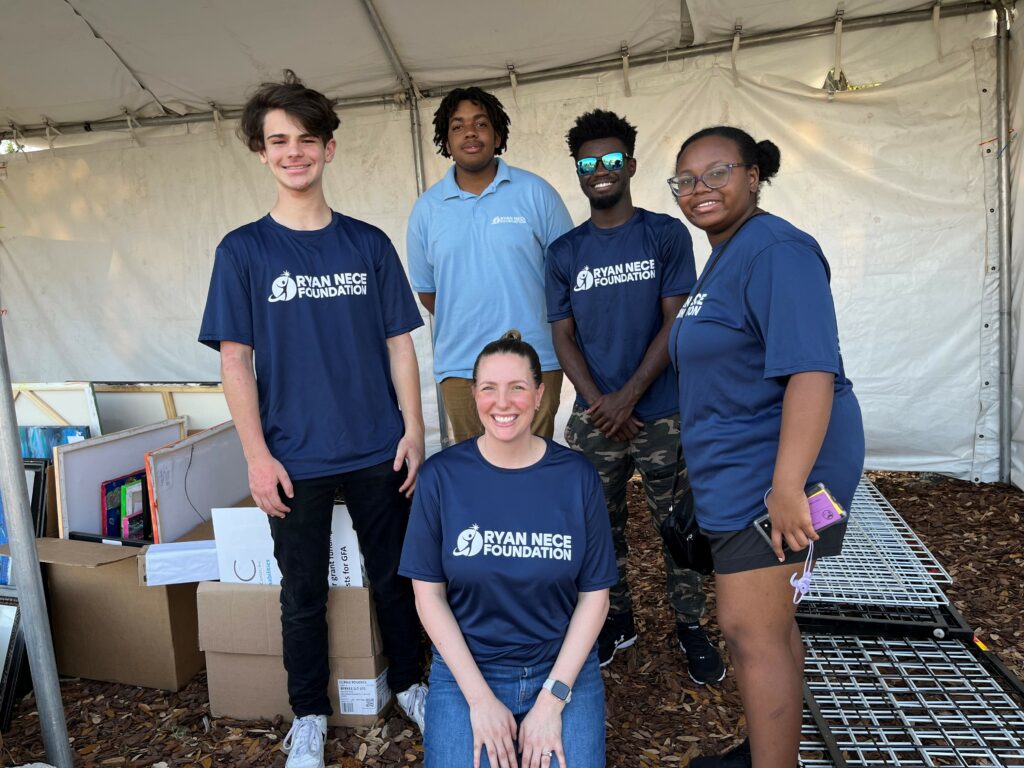 Hillsborough County's Pet Resource Center
Our students also spent a Saturday volunteering with Hillsborough County's Pet Resource Center, which is the only "open-admission" facility in the county. They accept all cats and dogs regardless of breed, size or medical condition. One of Student Service Program members recapped her experience:
"Today, we volunteered at the Pet Resource Center. It helps abandoned, lost, or stray cats and dogs find a home. You can walk through the kennels and look at the dogs playing in their mini outdoor park with many things to keep them engaged. First, our group helped prepare bags with treats for the dogs that visitors could give them. Then, we made snuggle mats for the dogs to play with and find food in. This experience was really interesting, and being able to help all the dogs/cats without homes was impactful." said Nishra Kothari, Student Service Program member.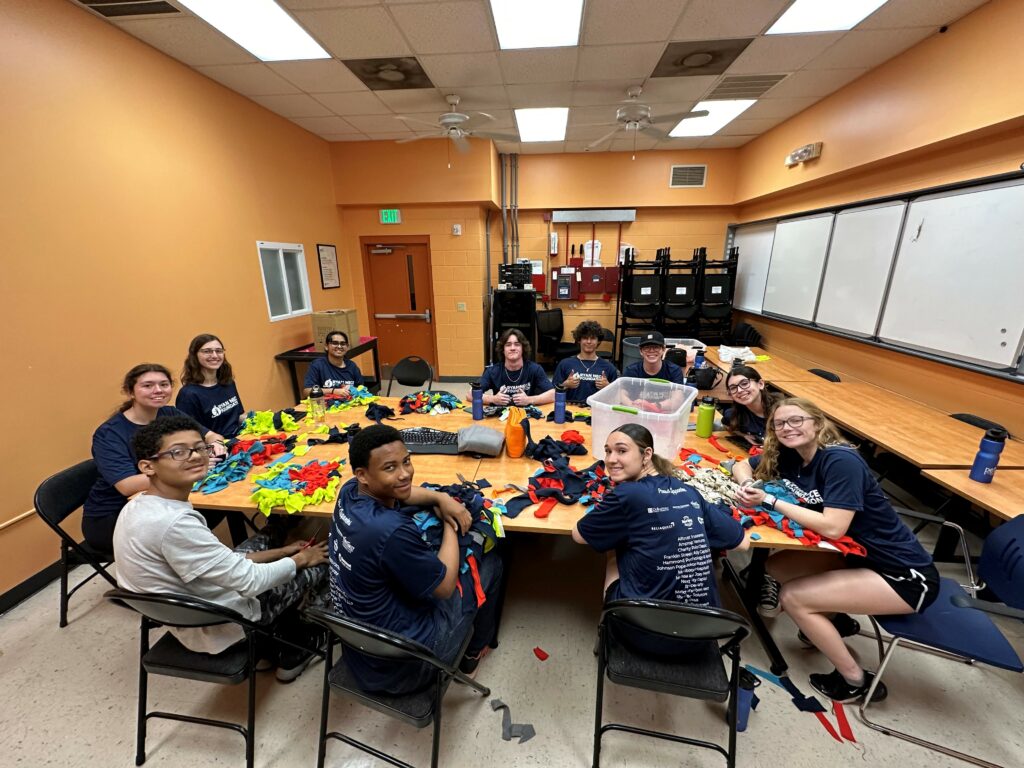 Friends of the Children – Tampa Bay
A couple of our seniors continued our monthly partnership with Friends of the Children – Tampa Bay, which impacts generational change by empowering youth who are facing the greatest obstacles through relationships with professional mentors – 12+ years, no matter what. Every month, our Student Service Program seniors have rotated into this service project, providing reading comprehension curriculum to 2nd graders. This month, our seniors conducted a lesson on Double Consonants.
"The seniors did so great!" said Dr. Nekeshia Hammond, Ryan Nece Foundation Board Chair, "This is a really nice program. The kids even said they were going to miss our seniors and gave them hugs!"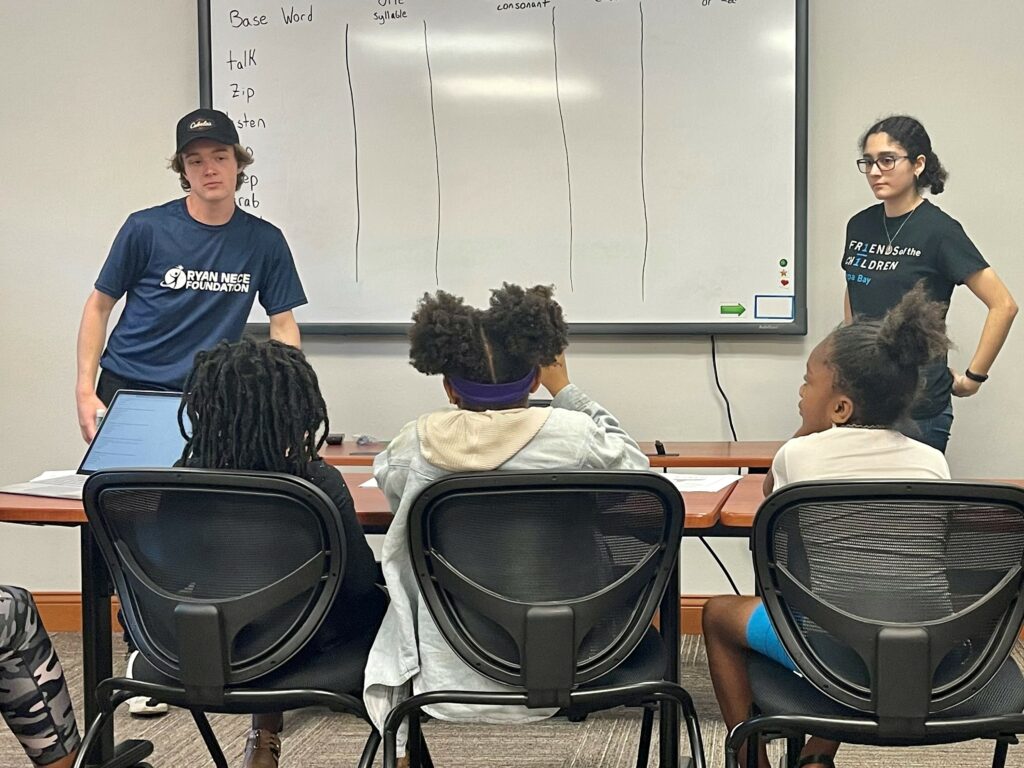 Here at the Ryan Nece Foundation, we believe one of the best ways to "sharpen your saw" is to find and renew yourself in the service of others. March was a reminder of the different ways we can do that through three very diverse missions. We are so lucky to have such wonderful nonprofit partners who allow our teens to volunteer with them!