Today, the Class of 2024 – Student Service Program embarked on their service-learning trip to Southwest Florida to aid in Hurricane Ian recovery work. In the fall of 2022, the Fort Myers area was unfortunately devastated by this hurricane, which damaged the infrastructure of the entire area. Upon arrival to the Fort Myers area, our class was split into two groups, with one group going to Habitat for Humanity in Charlotte County and the other group going to the Historic Park Community Garden in Punta Gorda.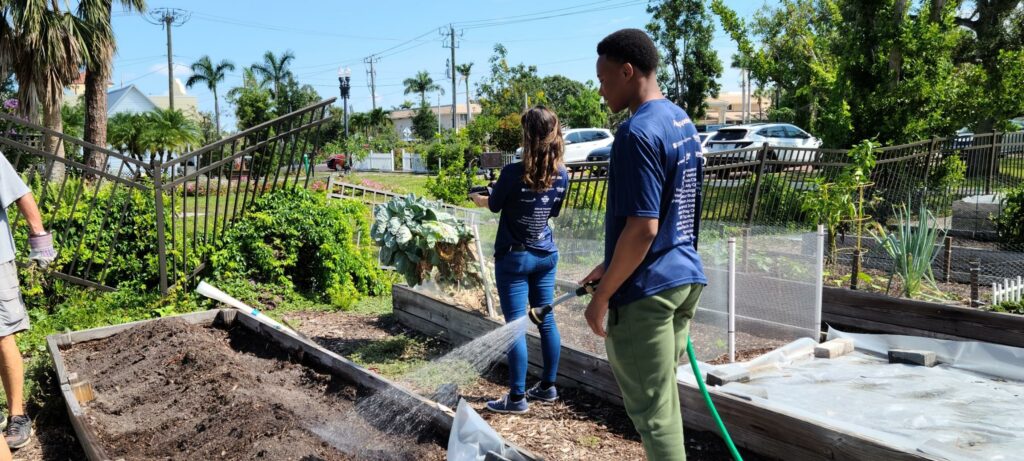 TEAM Punta Gorda Experience
We arrived at around 10 AM to the Punta Gorda Charlotte Library and then walked to the Historic Park Community Garden around the corner. We saw firsthand the hurricane damages and were told of the difficult rehabilitation process of the surrounding areas of the garden. The garden is overseen by TEAM Punta Gorda volunteers and other community members. After the devastating Hurricane Charley in 2004, TEAM Punta Gorda was created as a nonprofit, 100% volunteer-driven organization committed to making the greater Punta Gorda area a great place to live.
After hearing a brief history, we began to help the gardeners in preparation for the summertime crop season. We helped facilitate the process of solarization, which is a method for controlling pests using high temperatures captured by the sun. We first cleared each plant bed of its weeds in the soil and then created a mound. This mound of soil was then watered and covered in a plastic wrap to help capture the heat. After this process, we also took out all of the weeds from the surrounding areas across the garden and overall helped in the restoration process.
Although we were out in the hot sun and getting our hands very dirty, it was very fulfilling to give back to this community, which was set back by such a traumatic disaster. These people were very grateful for our hard work, and we were more than glad to offer it to them. It was also a very enriching experience because many of the volunteers taught us how to plant vegetables and how to keep them thriving.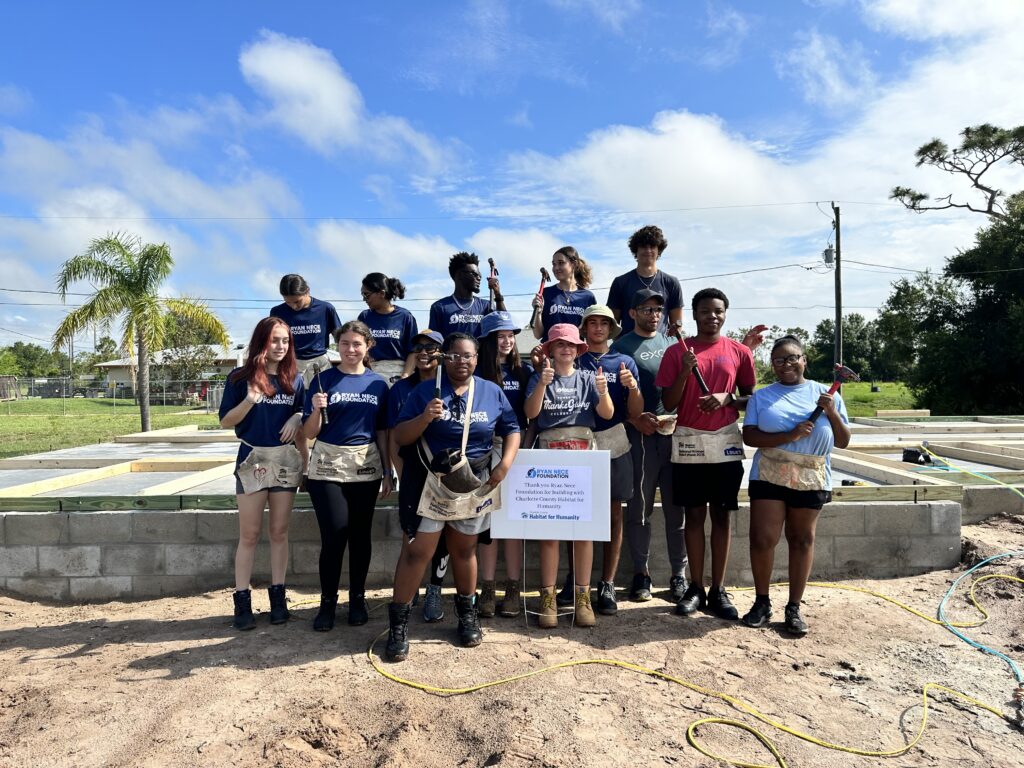 Charlotte County Habitat for Humanity Experience
Another group of us joined Charlotte County Habitat for Humanity to help build a house. Habitat for Humanity is an organization which helps families by providing them with homes with an interest-free mortgage. They have built numerous homes in the area, but recently, have been delayed due to Hurricane Ian. Our goal going in was to assist the project managers in building the home.
When we arrived on the site, we got to meet the future homeowner of the home we were building. She, along with her brother, worked alongside us to begin building her house. We started with the foundation, and by the time we left, we had the outside walls built. We learned how to build the structure of a wall and attach hurricane straps to keep the walls secured. We were also able to use a nail gun and hammers.
While it was very hard work, our volunteering was very rewarding. We realized how much time and effort goes into building a home, and we can't wait to go back and finish our part of building the house! It was also a very meaningful experience because the homeowner was there onsite helping us build. It was very fulfilling to know our hard work will provide her with a safe and comfortable home for her and her family to live in.
In service,
Clara Dalhoff, Olivia Dicus, Devin Puigdomenech, and Tristan Stavish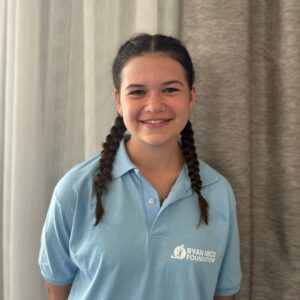 More Blogs on our SW FL Service-Learning Trip
SW FL Service-Learning Trip: Day 2 Recap
SW FL Service-Learning Trip: Day 3 Recap
SW FL Service-Learning Trip: Day 4 Recap
SW FL Service-Learning Trip: Day 5 Recap
SW FL Service-Learning Trip: Day 6 Recap
Moment of Thanks with Dave Harris